---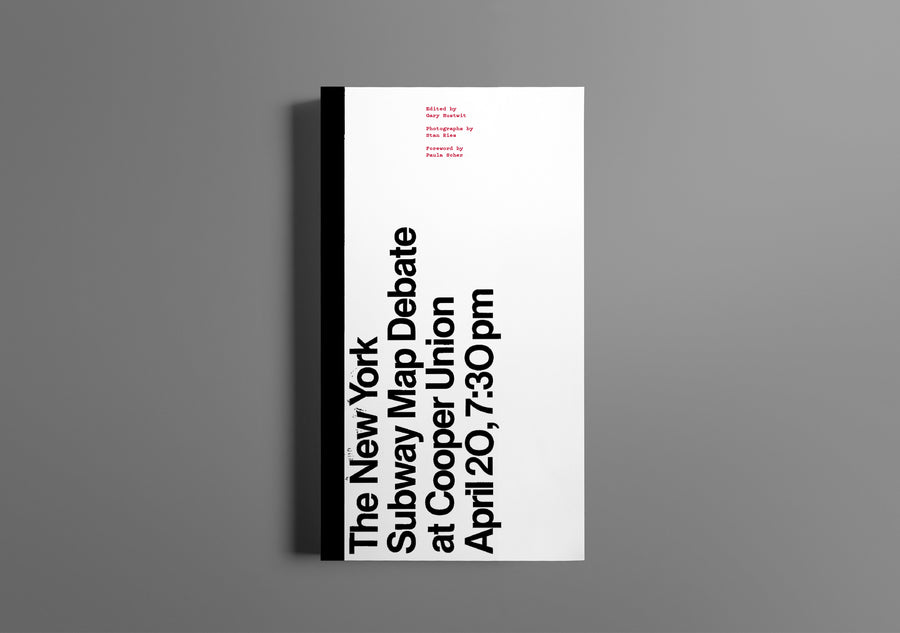 ---
About
The discovery of a lost audio recording sheds new light on a pivotal event in design history: the 1978 debate between designer Massimo Vignelli and cartographer John Tauranac over the future of the NYC Subway Map. The New York Subway Map Debate features the full transcript and discussions that followed, along with never-before-seen photographs of the evening by Stan Ries. Edited by filmmaker and design historian Gary Hustwit, with a foreword by designer Paula Scher.
Specifications
140 pages
5 × 9"
127 × 228.6 mm
CMYK + PMS 185 spot color
Smyth sewn
Case-bound
Printed in the USA
Note
This title will be purchased and fulfilled seperately from our other titles on this website. Contact us with any questions.
---
Credits
Copyright
The New York Subway Debate text © The Cooper Union Archives and Special Collections
Photographs © Stan Ries
Maps © New York City Transit Authority
All rights reserved. No part of this publication may be reproduced or transmitted in any form or by any means, electronic or mechanical, including photocopy, recording or any information storage and retrieval system, without prior permission in writing from the publishers.
Credits
Design: Order
Foreword: Paula Scher
Edited: Gary Hustwit
Published by Standards Manual and Gary Hustwit
2021
Note: Final book layout, design, and specifications are subject to change between the pre-order period and the delivery of the book for print. Standards Manual's number one priority is quality, and any changes to specifications will be communicated to purchasers (we do not envision this needing to happen).
ISBN
978-0-9895321-6-7